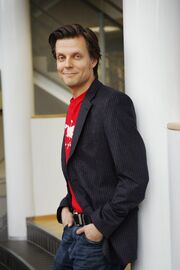 Sam Lake (Sami Antero Järvi in Finnish) (born 18 July 1970) is the lead writer of Alan Wake and Alan Wake's American Nightmare as well as other games by Remedy Entertainment. He will also co-write Alan Wake 2 with .
In the PC version of Alan Wake, a QR code can be found in Episode 4 that links you to a GIF of Sam Lake's famous 'Constipated Grimace'.
The game also has a complete commentary from him, which can be toggled from the menu at any moment. Alan Wake Remastered contains both the original commentary and a new one made by him for the remastered.
Alan Wake Character
Alan Wake
Sam Lake, the Alan Wake character is seen on The Harry Garrett Show with Alan Wake and Poets of the Fall. Although canonology Sam Lake exists in the Alan Wake universe his role is small and acts as an easter egg.
Alan Wake's American Nightmare
Sam Lake appeared again as a character, but this time only in the live-action marketing of the game. He was kidnapped by Mr. Scratch during one of the development diaries, and later appeared in Mr. Scratch's "sales video" - imprisoned in the dark place in order to write for him, unsuccessfully.
Gallery
Links
Official Twitter https://twitter.com/SamLakeRMD