Rose Marigold is a waitress in Bright Falls and Alan Wake. She works at the local diner, the Oh Deer Diner, in Bright Falls. She also is a big fan of the writings of Alan Wake and keeps a life-sized cutout of him in the diner. In her spare time, she enjoys reading his novels and following news about him.
Background
Rose is known to be a huge fan of Alan Wake, and other writers in general.
Events of Bright Falls (mini-series)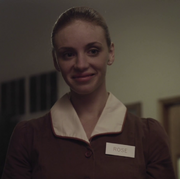 In the live-action series, Bright Falls, she first meets Jake Fischer when he enters the diner and starts to flirt with him when she realizes he is a reporter. Jake notices that she is a fan of Alan Wake, as evidenced by the cardboard cutout of Alan in the diner. When she next meets Jake, she becomes rather jealous of a woman named Ellen, who has come to the Oh Deer Diner to meet him. Despite this fact, she is still amiable to Jake whenever she meets him, and comforts him when he doesn't look well.
Events of Alan Wake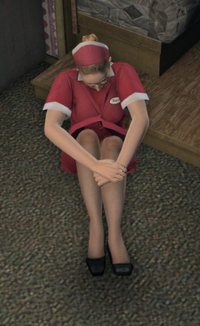 When Alan Wake walks through the doors of the Oh Deer Diner, she barely acknowledges who he is until she looks up, and then begins gushing about being Alan's biggest fan. Annoyed with her enthusiasm, Alan groans and interrupts her by asking where he can find Mr. Stucky. When Alan leaves after receiving the cabin key and directions from the lady in black, Rose will yell out "Bye Mr. Wake!" in an excited tone.
Rose later encounters Barry Wheeler and Alan when they arrive at Elderwood National Park to rent a cabin from Rusty and at the end of the episode Taken when she invites Alan and Barry to her trailer to retrieve the manuscript pages Barry asked her to find for Alan. Unfortunately, the Dark Presence has brainwashed her into doing so and once they arrive Rose serves the two men drugged coffee, knocking them out until nightfall. On his way out of her trailer, Alan notices Rose rocking back and forth (reciting lines she might say to a customer at the diner), realizing that the Dark Presence used her to get to him. Barry, however, believes she turned against them on purpose and steals the cardboard cut-out of Alan she kept at the diner. At the end of the game, she is seen carrying a lantern, just like Cynthia Weaver did, with former FBI Agent Robert Nightingale watching her from the darkness behind.
Speculation
Rose's motivations at the game's conclusion are definitively ambiguous. Whilst it is suggested that Rose has become the new 'Lady of the Light', as the now retired Cynthia had been, Rose's body language and facial expressions show a much darker motivation. Of course, this is probably just her being protective and stern in the presence of Nightingale behind her. It is probable that, like Cynthia, she has 'gone mad with the night' after her confrontation with the Dark Presence. Rose also seems to share the same likes as Cynthia Weaver did, Rose adored Alan as Cynthia did with Thomas.
Trivia
Rusty harbors romantic feelings toward Rose. While she is aware of this and appreciates him, it is hinted that he is not what she is looking for. This romantic harboring was never brought to fruition; Rusty was Taken and Rose's idol had to destroy him.
In the early beta versions of Alan Wake, Rose had the same face as Sheriff Sarah Breaker whilst wearing a blue outfit, rather than red. Her voice sounded a lot older and country as well, and seemed to be more obsessed with Alan than the final version of Rose.
She will tell Alan that she got the cardboard cut out (standing by the front door of the diner) of him from a local bookstore that was promoting one of his books, if Alan lingers around Rose after the first cutscene with her.
If Alan turns on the radio at the cabin when he first visits it, Pat Maine will hint at Alan's presence, but Rose, unfortunately, will excitedly reveal that Alan is in Bright Falls.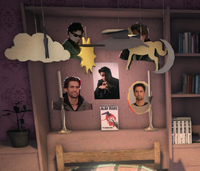 Rose actually has a shrine of Alan in her bedroom.
When Alan asks her if she has the manuscript pages in episode 3 when he and Barry Wheeler are in her trailer, despite being possessed, she makes a pose and tells him that he needs a "muse to inspire him". This means that she may be jealous of Alice, since she is Alan's muse and love.
When she's feeling lonely she will talk to the cardboard cut out of Alan Wake.
Rusty is her only real friend, as she spends most of her time managing her Alan Wake fansite and living in longing and quiet desperation.
In Alan Wake, Rose's uniform is red, but in the Bright Falls mini-series her outfit is brown.
In the mini-series, she is played by Merette Bartles.
In one of the manuscript pages, it shows that Rose is insecure and wishes more than anything she was friends with Alice and Alan.
Appearances
Gallery