Jupiter Summit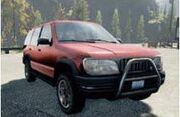 Catalog Description: A modern SUV in every sense of the word. Featuring, as all our vehicles do, high-beam lights that dazzle and then cut through dark protection, and a hood to withstand at least six human-sized bodies!====
The Jupiter Summit is a driveable vehicle in Alan Wake. It's resembles a 1995 Ford Explorer or it's rebadged variant, the 1997 Mercury Mountaineer. It reappears in American Nightmare as the SUV, which the Dark Presence throws at Alan at the Observatory.
Locations
Episode 2:
On the left side of the road after finding the key to the garage.
While driving back to Barry Wheeler, one is found at the left side on the road, next to a trailer.
Another on is parked at the Elderwood Visitor Center.
Episode 6:
Found in a parking lot the before the first tunnel.
On the left side of the road after the first tunnel.
Community content is available under
CC-BY-SA
unless otherwise noted.