Hillscrambler SUV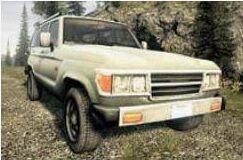 Catalog Description: An Oldie, but a goodie! Although it may not accelerate with the best of them, this crawls up hills with a dogged determination! It's a little unwieldy, but it gets the job done!
The Hillscrambler SUV is one of the driveable vehicles in Alan Wake. It's based on a 1988 Toyota Land Cruiser (J80) . It's seen in green, white and brown color, but only the green one is driveable. It seen for a second in American Nightmare, parked at the motel in the opening scene.
Locations
Episode 3:
Found at a cabin on the way to the coal mine.
Episode 6:
Can be driven during the daylight part.