Cynthia Weaver is a character in Alan Wake. She usually goes around carrying a lamp, to keep all the darkness away. She is obsessed with light.
Biography
Early Life
Cynthia has lived in Bright Falls all her life, and used to work for The Bright Falls Record for many decades. During the 1960's, she had an infatuation with Thomas Zane, often jealous of his spouse, Barbara Jagger.
Events of Alan Wake
She is the initial mysterious lady who appears at the Oh Deer Diner, worried about Wake getting hurt in the dark hallway that leads to the diner's restrooms. She is constantly seen holding a lantern and is easily frightened by the dangers of the darkness. The residents of Bright Falls have labeled her as the "town eccentric", due to her obsessive maintenance of the town's light-bulbs. Before she became obsessed with the light, she used to be the editor of the local newspaper, but focused on "other things".
It appears that Cynthia was actually somewhat manipulated by Thomas Zane and is also known as 'The Lady of the Light'. She exists to conflict with the Darkness throughout Bright Falls by providing its buildings with plenty of light bulbs and living in the town's power station, so as to remain forever in the light. She has also held feelings for Thomas Zane, this can be seen in Episode 3: Ransom where she writes Thomas' nickname "Tom" and love hearts all around the basement of an abandoned house with light-sensitive paint. She has also confessed that "a part of her" was happy when |Barbara drowned in the lake.
Cynthia sees Alan as a foolish man; she probably knew Alan had tried to revive Alice but instead gave darkness power. Though she says that Alan is smarter than Thomas.
In Episode 5: The Clicker, Cynthia's role and purpose are fully explained - including how she is protecting the legacy of Zane in the "Well-Lit Room". She has been protecting the clicker, an artifact given by Alan's mother and written by Thomas Zane. She has been preparing for Wake's inevitable battle against the Dark Presence: all of the hidden caches left behind, the seemingly abandoned power company trucks filled with supplies, even the messages left behind in the unique light-sensitive paint.
Her forced obsession with light is shown at its peak in the Well-Lit Room: hanging lights have been arranged in such a way as to allow NO shadows at all. She even keeps a systematic mental log of the light-bulbs position, brand and model for easier maintenance and she constantly replaces the bulbs despite saying that she was "tired" of all of it.
Appearances
Trivia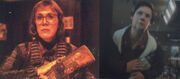 In the Alan Wake Files, there is a clipping of the 'Volcanic quake sinks island, damages power plant' article from July 20, 1970. this article was written by Cynthia Weaver, Special to the Bright Falls Record.
She bears a strong resemblance to Twin Peaks Log Lady, which Remedy has admitted to being influenced by.
In the novel, Weaver noted Sheriff Sarah Breaker made up a nasty rhyme about Weaver when she was a little girl. Sarah became nicer later although she was scared. Weaver also drank a cup of coffee on occasion with Sarah's father Frank Breaker.
Despite her lingering feelings for Zane over the years, she resents him (on some level) for forcing her into the position.
It might be hinted that Cynthia's obsession of light might have only developed after Thomas Zane manipulated (wrote) her in his book. Her resentfulness to him might explain that she knew of Thomas Zane's manipulation.
Cynthia has provided Alan with flashbangs, flares, flare guns, ammunition and various other light equipment. How long and how she obtains all of these supplies are unknown.
Cynthia is similar to Rose as both of them also harbor feelings for famous writers (Thomas Zane and Alan Wake). This could be due to Alan's manipulation.
In the abandoned house found in Episode 3: Ransom, she has written (in light-sensitive paint) "You talk to me on TV". This could state that Cynthia had talked to Thomas Zane via television. She also says in Episode 5: The Clicker, that "He talks to me, you know. Through the TV..."
Cynthia uses light-sensitive paint as a means of communication, as light-sensitive paint can be seen almost everywhere in the game and can only be seen by those who had been touched by the darkness, she could have possibly been to every place that Alan had gone.
In the abandoned house which Alan must go in through the basement, there are hidden messages everywhere on the walls mostly "Tom", also "I curse you Thomas Zane" and a heart with T.Z and C.W in it.
It seems Cynthia might have Bi-polar feelings for Thomas Zane from an obsessive longing to bitter hate, this can be seen from her paint in a basement of an abandoned house and in the power plant.
Cynthia has a red couch in her safe room, which is identical to the ones scattered around the area of Bright Falls. It might be a hind to the several places she went to during her life, given that she was also the one hiding the hidden chests of supplies.
In the Official Survival Guide, the book notes that the manor ruins by Mirror Peak were built by a man named Bartholomew Weaver in 1910. It's most likely Cynthia was related to this man as she sprayed more messages about Thomas Zane on the ground floor here than anywhere else in the game.

It's unknown if Cynthia inherited the manor land as the building was not completed due to bankruptcy.

Mental illness may be hereditary in Weaver's family as it's noted that during construction of the Manor House by her ancestor, Bartholomew Weaver, that the cost of finance for the house caused mental strain.
Gallery