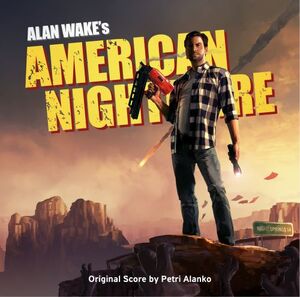 Alan Wake's American Nightmare soundtrack made of both licensed and original music like that of Alan Wake.
Licensed Music
There are two licensed songs in the game:
Original Music
Soundtrack
Petri Alanko composed the score once again for this game. Only this time, he working on this in his spare time.
| Track No. | Name of Song | Length |
| --- | --- | --- |
| 1 | So Cold His Heart | 2:19 |
| 2 | My Eyes Or His | 2:03 |
| 3 | Revenge In My Arms Again | 2:23 |
| 4 | American Nightmares (The Theme) | 1:51 |
| 5 | Nailgun, Pistol, Shotgun, ANYTHING | 1:43 |
| 6 | Spiders | 2:15 |
| 7 | My Evil Thoughts | 2:34 |
| 8 | Itching | 1:12 |
| 9 | American Nightmares (The Demo) | 0:53 |
| 10 | Emma | 1:34 |
| 11 | Rachel | 1:40 |
| 12 | Serena | 2:32 |
| 13 | Funny How Things They Turn | 3:46 |
Video